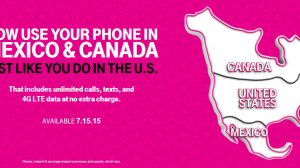 T-Mobile's U.S. customers will soon be able to call and text people in Canada and Mexico and use their cell phones while traveling in those countries without incurring any additional fees.
The wireless carrier announced Thursday that all T-Mobile Simple Choice customers will be able to use their phones across North America at no added cost starting on July 15.
Called 'Mobile without Borders,' this first-of-its-kind move delivers calling to both land lines and mobile phones as well as 4G LTE data straight from your plan across all three countries at no additional cost. The historic upgrade makes Simple Choice the first and only wireless plan to span an entire continent.
Mobile without Borders is part of T-Mobile's Uncarrier strategy, which was launched a few years ago in an effort to win more customers. So far, T-Mobile has attempted to challenge its rivals by doing away with two-year contracts, dropping data roaming fees, and allowing its customers to upgrade their phones for free at any time, among other promotions.
It's clear that T-Mobile's strategy has been working. The company said Thursday that it added 2.1 million new customers in Q2 of 2015. This marks the ninth consecutive quarter that T-Mobile has delivered over 1 million total net customer additions.
According to Mashable, T-Mobile's "rise from last-place carrier in the U.S. to third place behind AT&T and Verizon is largely attributed to their CEO's aggressive Uncarrier campaign."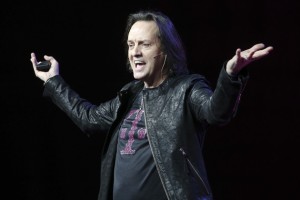 In a video introducing "Mobile without Borders," T-Mobile's CEO John Legere explained the rationale behind the new promotion. "I hate limits," he said. "I hate most rules. I hate barriers, borders and restrictions of all kinds. That's why I love taking on the big wireless carriers, because they're famous for hidden rules and for finding more ways to put more barriers, borders and limits around what their customers can and can't do."