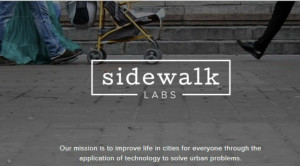 In June of 2015 Google announced the creation of a new company that will develop technology to improve city life for residents, businesses and governments.
Google has teamed up with Dan Doctoroff former Bloomberg CEO and ex-deputy mayor of economic development and rebuilding for the City of New York to advance the effort. Doctoroff will be CEO of Sidewalk Labs, which will be based in New York.
Doctoroff will contribute his experience in building and managing cities, and Google will provide funding and support.
Sidewalk Labs aims to tackle the biggest challenges cities face, said Google CEO Larry Page, including making transportation more efficient, lowering the cost of living, reducing energy usage, and helping governments operate more efficiently.
Responses to Sidewalk Labs
Comments on local blogs range from ecstatic praise to request for jobs to criticism to the extreme.
Some are: "can you ask them to develop very little self-driving robots to remove dogs' excrements and other trash from the streets" and  "When you say everyone I hope that's not just about solving first world problems of six figure salary techies. I want to hear more ideas about how to help the homeless and by help, I don't mean just move them out of sight."
There are document that point to the Cities Alliances Guide to City development Strategies, which includes recommendations on the following topics:
Livelihood, such as job creation, business development, and sources of household income
Environmental sustainability and energy efficiency of the city and the quality of its service delivery
Spatial form and its infrastructure
Financial resources
Governance
Life as Google Might See It
According to personnel, Sidewalk Labs possibly will create things that are highly and much more completely instrumented then tie that instrumentation to automated city management systems, services and planners. The benefit for Google is that the resulting information would be invaluable to people that want to sell you stuff.
If they get to critical mass, it would be nearly impossible to displace Google which would, for all practical purposes, be abstracting the government and directing it. With Nest, Google has our homes; with self-driving cars, our transportation; and now with this, they'll get pretty much everything else.
Questions about Sidewalk Labs' Vision
Apps in and of themselves don't make a city more efficient; they can serve only as an overlay to infrastructure, and much of the infrastructure in most established cities in the United States is crumbling, according to the American Society of Civil Engineers' 2013 report card for America's infrastructure. We'll need to invest US$3.6 trillion in infrastructure projects by 2020 to remedy this problem, it says.
Creeping Into a Crowded Market
Lots of companies, including IBM, have been involved in smart cities projects for years, and their efforts are more extensive than Sidewalk Labs' initial aims.
A lot of cities are doing proposals for smart lighting but the problem is that they require a full IP network for the next 10 to 20 years.
Officials want to automate their cities and link all the databases together so they can plan out traffic patterns, revenue models, where they should put parking spaces, etc. One city is that is doing this is San Jose, which has begun piloting an Internet of Things project.
Google, Apple, Microsoft and other companies are motivated to get into the smart cities market, because they'll have the databases and consumer information, and we will get locked in to them.