Network Monitoring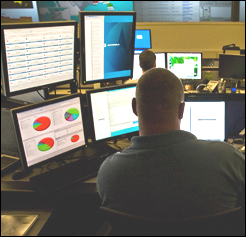 As a company grows in size and adds staff to its ranks, information technology provides the river through which channels of communication are effective.  Sharing data, co-producing information and media, and general communications among the various interacting levels of staff all become critical for the functioning of a successful business.  A solid, comprehensive, and reliable business network is the solution.  The Internet and intranets are complicated systems of computers, servers, hardware and software. It takes a professional who is knowledgable and insightful, and knows how to build a robust yet flexible network that will continue to provide growth opportunity.
This is where the job of network monitoring comes in. In the case of any "machine," even though you oil the moving parts and continue to protect the vehicle, at some point it will beak down. The same applies to business networks. Once you have an optimum business network set up, it has to STAY UP in order to serve. As soon as the business network has a problem, whether it is because of invasive programs, hackers, currupt software, or a physical component breakdown, the business process is hindered. Inevitably, this may result in a systematic failure that can almost invisibly cost you a lot of money before you even know you have a problem. Or, your entire network could fail, and put you temporarily out of business.
Network monitoring is a process that uses systems of programs and hardware to guarantee the best performance and fastest troubleshooting response time for your business network. It includes intrusion detection systems that monitor outside influences, network traffic measurement, and system testing that checks the efficiency of processes. Sophisticated route analytics can check to see if your various network processes are working at their optimum capabilities.
Apex IT Solutions can build your network, and also keep it functioning at the highest rate of efficiency possible.  If you want to relieve your business from the worries of network failure, and focus on your business, call Apex IT Solutions, and see how you can outsource your network monitoring, and function as if you have your own IT department, with fast professional response, and perfect results.