24/7 Server Monitoring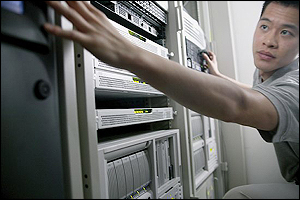 Business servers have become the heart and soul of a company's functions.  From enabling basic business processes, to empowering efficient communications among staff and clients, to storing and delivering information, and a vast number of other jobs, business servers are essential to success.  It makes sense that your servers should be robust, reliable, and monitored regularly to ensure peak performance at all times.
Having a good working server system is important.  However, as any system with moving parts fed by electricity, with wiring, hardware and software will eventually prove, something inevitably will go wrong.  The key is to catch the problem before it develops into a breakdown of the overall system.  Making sure your servers are in the best working order is one of the most important pieces to this puzzle. Loss of data, or server shut down, can stop your business in its tracks, and for some period of time your business is crippled.
You can insure against this by having Apex IT Solutions handle the monitoring of your servers.  They are specialists in server design and backup, and will see that your problems are minimized, and that your business functions are maximized.  The highly qualified technicians at Apex IT Solutions are fluent in all Internet and server protocols, including secure and non-secure page delivery, public and private access, file transfer protocol, email, and more. 
Don't wait until a problem "shows itself."  Keep watch on your business servers through professional IT services.  As you move forward with building your business, Apex IT Solutions has your back!  Call us today to find out how to keep your servers serving you and your business without fail.